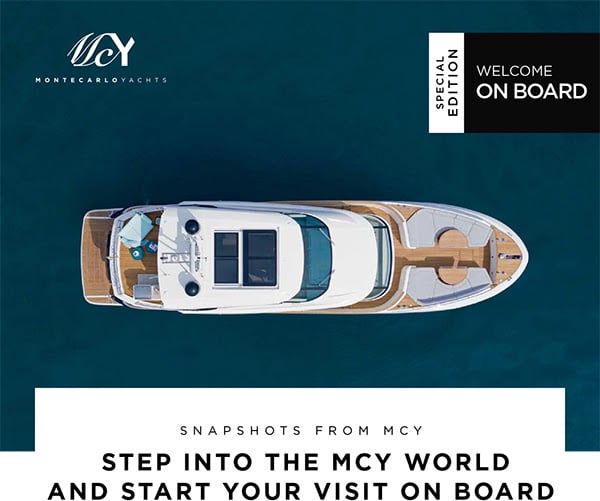 We are pleased to start the new boating season by inviting all sea-lovers around the world to step on board and feel the excitement of exploring the different areas and features of our models.
So, welcome on board. Feel free to discover the elegance of the spaces, the quality of the materials and the refined details that characterize the unique MCY Collection.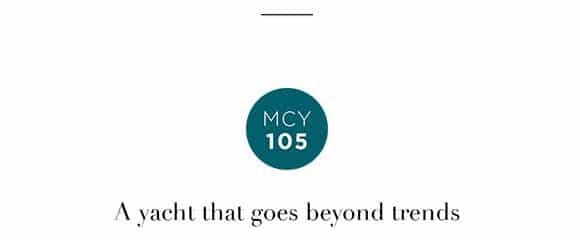 Each MCY 105 is a real one-off creation: a blend of accurate craftmanship, cuttingedge technologies and innovative building process.
A perfect balance between hull and superstructure, the painstaking attention given to proportions, the mega-yachts imposing bulwarks and the high bow award this model with the naval allure so distinctive of timeless MCY' style.

MCY 96 is the ideal yacht for extended voyages. Comfort, space, privacy, safety and quietness on board will make you feel like being on a megayacht.
Getting on board, an instant sense of spaciousness invades you: volumes are very generous, comparable to those found on much larger yachts.

MCY 80 combines high aesthetics with top level comfort and functionality, outstanding performance at sea with surprising maneuverability.
All this is made possible by the shipyard's innovative Naval architecture and Manufacturing Process. Ultimately, it represents Monte Carlo Yachts' challenge to elevate the very concept of luxury yacht to new heights.

The MCY 76 is a truly iconic yacht that offers high privacy, extreme comfort and extraordinary customization possibilities.
Leveraging technology both within the design and the manufacturing process, the versatility of all areas is guaranteed, allowing owners to create a unique yacht, customized in all of its parts.

A wide enclosed Flybridge, numerous exterior areas, versatile layouts, high-quality finishing and seaworthiness make the MCY 76 Skylounge the perfect yacht to be enjoyed with family and friends.
A new concept of onboard experience, that will make you discover extreme levels of well-being.

MCY 70 is an elegantly comfortable yacht where design choices and technical solutions have been studied in order to highlight its strength and linearity.
Here, everything strives for a perfect harmony between function and aesthetics. A minimalist design, combined with a contemporary style and a practical layout, results in a yacht that is at the same time comfortable and livable.

Distinguished by a customizable enclosed flybridge available for the first time on an Italian-crafted yacht, this model allows customers to enjoy life at sea in different climates and according to their needs.
It perfectly embraces Monte Carlo Yachts' philosophy of timeless elegance, offering impeccable performance and high customization.

MCY 66 is the smallest model of the MCY Collection and it represents an authentic revolution among luxury yachts of equivalent size.
With a timeless, instantly recognizable style, it offers distinctive cruising comfort and stability, boasting the best features of the larger units in a more compact model.