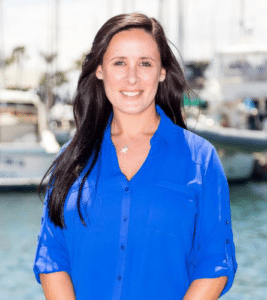 A Southern California native, Tracey grew up on the waters of Marina Del Rey, Catalina Island, Castaic Lake and Mission Bay fishing and water-skiing with her father on their 14′ Bayliner Capri.  With her natural affinity for being on the water and fond memories of boating it seemed natural to put those two together.  In 2000 she started her own business doing bright work in and around Shelter Island and you've likely seen her make many of the boats of the San Diego Yacht Club shine.  Over the years watching her clients sell and buy the very boats she repaired and maintained it became clear they would benefit from her unique knowledge of their boats during a purchase or sales event.  In 2014, Tracey incorporated a sales license in to her business to better serve  the boating community.  A fixture of Shelter Island responsible for some of the best bright work in town, she knows boats, likely yours or the one you are looking for.
Outside of work, Tracey can be found volunteering and fundraising for The Leukemia and Lymphoma Society, the Challenged Athletes Foundation and being a dedicated and loving mother to her son.  Tracey is a unique asset to the boating community with a genuine pleasure of being on the water and extensive experience with the nuts and bolts of boat maintenance and ownership.  She will make your boat purchase or sales experience unlike any other.
Call Tracey today to list or find the boat of your dreams. Make the call, start an adventure and create new memories on the water.