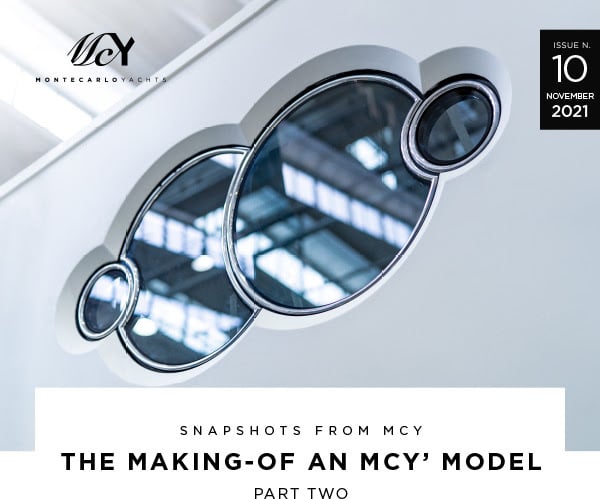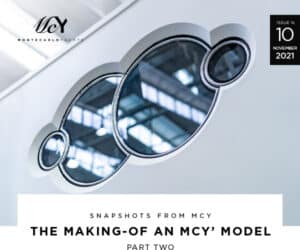 At Monte Carlo Yachts, owners are always at the center of each process. They are involved from the first stages all the way through to the main manufacturing phases of the yacht-building process. Being able to witness firsthand how their yacht is taking shape and to discover the cutting-edge technological solutions adopted in MCY' shipyard can be a unique and fascinating experience for any owner.
A unique modular construction process
Inspired by Lean Manufacturing theories, Monte Carlo Yachts' manufacturing process constitutes an extraordinarily innovative approach in the yachting sector. MCY' yachts are made of three modules: the hull, the interior module and the deck. They are built simultaneously until the last stage and then joined together in the final assembly. This type of construction process is applied to the entire MCY Collection and provides unparalleled advantages in terms of quality as well as much greater levels of customization.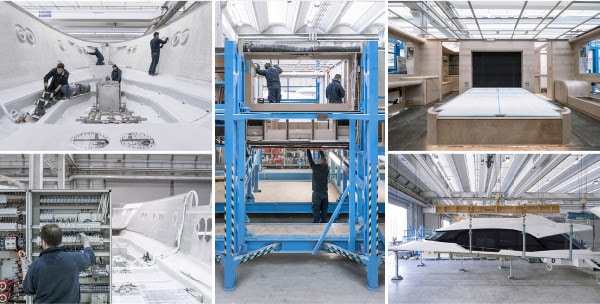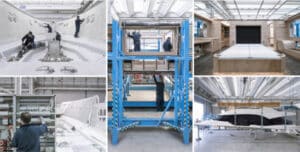 Building the hull, the fully customizable interior module and the deck
The hull of every MCY presents itself as an extremely solid light shell which respects top-of-the-category safety standards. When the electric and hydraulic systems are completed and the engine room is set up, the hull is ready to welcome the fully customizable interior module, built in parallel. The deck as well is built simultaneously. Once ready, it is joined with the superstructure, the flybridge framework and the carbon fiber t-top.


The modular system allows Monte Carlo Yachts to offer owners' customized layouts and nearly endless personalization possibilities.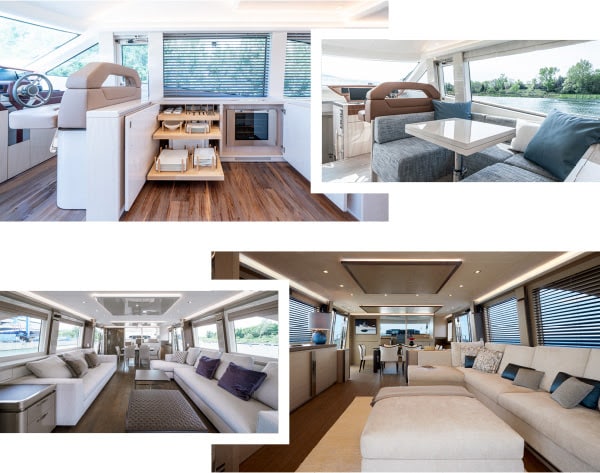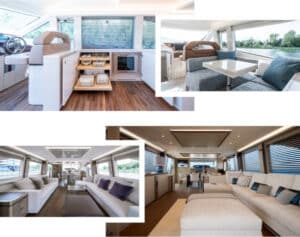 Shaping natural materials into beautiful forms
The complete design and production of the furniture is made in-house utilizing only natural wood, a solution which enables Monte Carlo Yachts to obtain unparalleled levels of quality and finishing.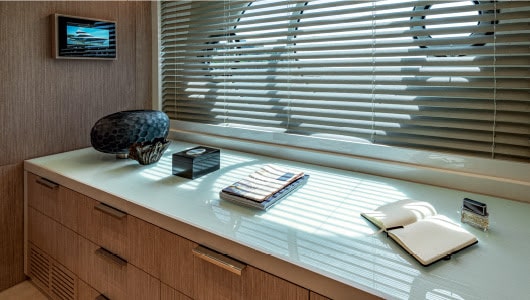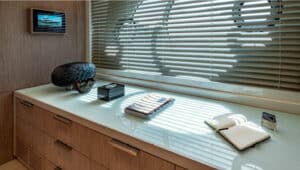 Natural stone, hand-made tiles, decorative metals, hand-stitched leather and high-end fabrics are selected from the best Italian suppliers and assembled inside MCY' facilities. In its state-of-the-art shipyard, skilled craftsmen work with passion to ensure the highest levels of quality while all materials used in the yachts' living spaces come from the world's top design firms.



The final assembly, an extremely fascinating phase
Once the hull, the interior module and the deck are completed and furnished, it is time to join them in a sort of meticulous "plug and play" operation. The first elements to be joined are the hull and the interior module: the latter is lowered into the hull in a single movement and joined. Next comes the joining of the hull and deck modules.


This is a fundamental phase: the overall procedure is accurately
planned and performed in just a few minutes…
such a fascinating moment to be enjoyed by the owner!