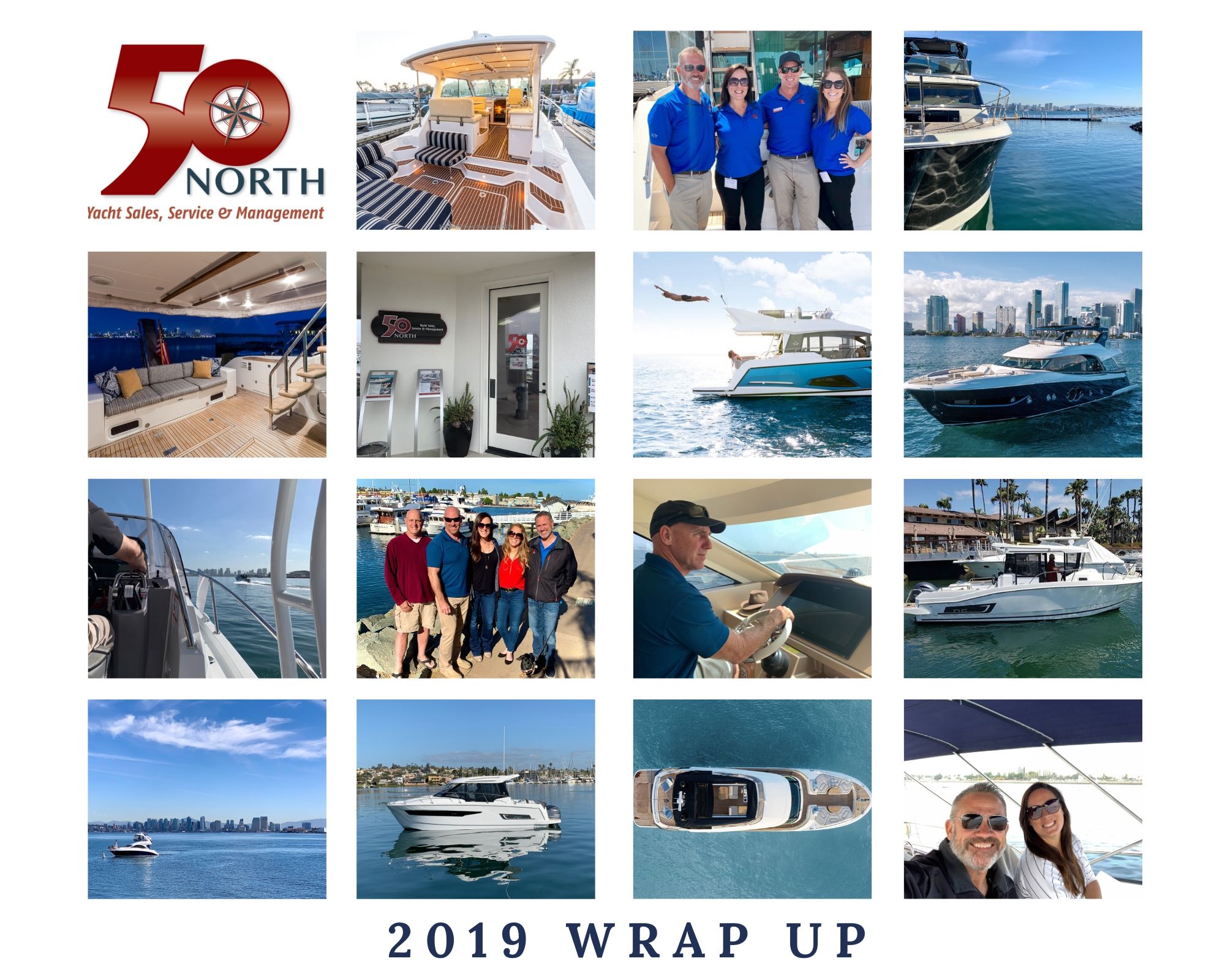 Wow, and just like that, another year has gone by! As we head toward 2020, It is great to look ahead and think about what the new year has in store for us, but first we would like to look back on what 2019 had for us.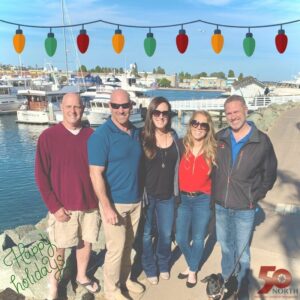 As most of you know, this past year we had the opportunity to move our office over to Shelter Cove Marina in San Diego. We have enjoyed making new friends (both 2 and 4-legged), acquired lots of new listings, attended multiple boat shows from west to east, and continue to grow our 50 North family. 
The month of October marked 6 years in business for 50 North Yachts! All of our brokers and employees love what they do and we strive to ensure that our clients receive the best service in all aspects of the boat buying process, in a fun and friendly atmosphere. As 2019 comes to a close we would like to thank YOU, our clients, who have put your trust in us and made us a part of your lives. We wish you and your families' joy, peace and love this holiday season and all the best for 2020! Looking forward to seeing you and helping you make new memories on the water in the new year!

NEW 2020 MCY MODELS

Monte Carlo Yachts aims to please and it did just that with their impressive display of luxury yachts with not one, not two, but THREE NEW model U.S. debuts at this year's 2019 Fort Lauderdale International Boat Show. An exclusive launch party was hosted for the premiere of the new MCY 66, MCY 70 and the star of the show, the newly designed MCY 76. Monte Carlo Yachts revolutionized boat design with the first MCY76 when they uniquely utilized the bow area like no other builder before. MCY has taken that design to the next level with a refined bow area aptly named The Beach Club! Appropriately named featuring large day bed areas on either side, with retractable tables that can also be converted to create a large sunbed and a cabana like sun awning with curtains on all sides that stay open for light or close for privacy and shade.
With the production of larger models, these new yachts display the level of maturity achieved by Monte Carlo Yachts. The interior spaces are larger and offer impressive panoramic views, the engineering has reached new heights, and the design has been tailored to offer owners comfort and custom needs. Click play and enter the exclusivity of the MCY experience. 
FEATURED LISTINGS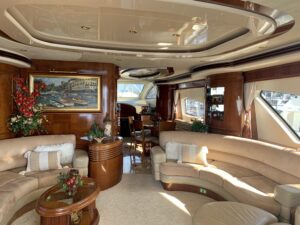 2003 AZIMUT 80 CARAT
Asking Price: $1,200,000
For More Info Call:
Gregg Morton
858-967-9310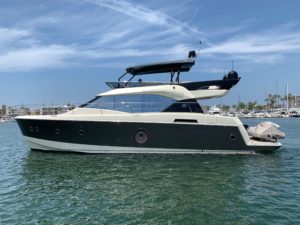 2016 Monte Carlo MC6
Asking Price: $1,275,000
– LLC OWNED
– VERY LOW HOURS
For More Info Call:
Mark Gibbons
 619-997-9491

2010 FAIRLINE 55 SQUADRON
Asking Price $795,000
For more info call
Mark Gibbons
619-997-9491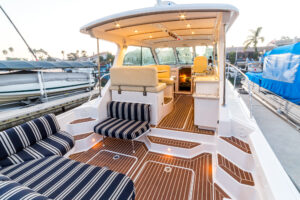 2015 BACK COVE 34
Asking Price: $385,000
– Immaculate condition
– very low hours and new inverter
For more info call Graham Rutherford
858-740-1987
1986 BAYLINER PILOTHOUSE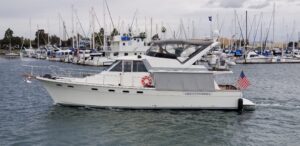 Asking Price $145,000
For More Info Call:
Tracey Fienberg
619-920-7249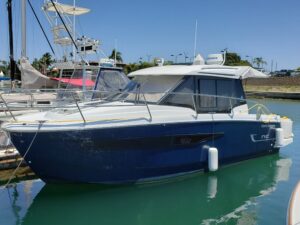 2019 JEANNEAU NC 895 OFFSHORE
Asking Price $145,000
For More Info Call:
Tracey Fienberg
619-920-7249

2003 MERIDIAN 341 SEADAN
Asking Price $99,800
For more info call Graham Rutherford
858-740-1987

1989 Caver Santego 640
Asking Price: $79,000
For More Info Call:
Tracey Fienberg
619-920-7249
1997 CRUISERS YACHTS 3650
Asking Price: $99,000
For More Info Call:
Tracey Fienberg
619-920-7249   
At 50 North Yachts, we have dedicated our work to helping people find the perfect boat, sell their current boat, yacht management, and having the best experience through those processes. Our team is driven by a shared passion for boating and is committed to providing expert service in a fun and friendly atmosphere. Learn more about the people behind the scene in our "Getting to know 50 North" segment. Each week we will be featuring an interview on our blog and social media with each of the talented individuals that make up 50 North Yachts.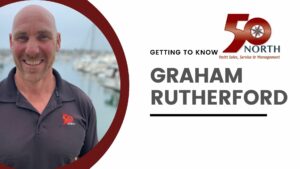 For this week's 'Getting to Know 50 North' we sat down with our favorite Aussie friend and sales agent, Graham Rutherford! In addition to always making us laugh, Graham has an extensive background in boating/yachting, joining us from the superyacht world, he is a licensed yacht captain, accomplished marine project manager, and avid water-skier.
Graham is one of many outstanding assets that we are truly thankful to have as part of our Team. Let's get to know him a little better ….
– What do you like most about your job? 
I love meeting and talking to people who are passionate about what I love doing and that is boating. This is what I have done all my life and love what I do.. READ ON
SAVE THE DATE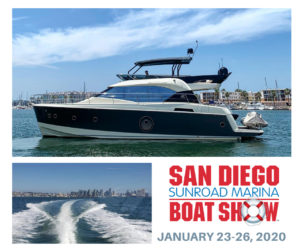 Kick-off the new year with 50 North yachts, at this year's San Diego Sunroad Boat Show, January 23-26, 2020!  Don't miss this annual event where there is always something for every boater!  There will be a lot of great boats along with marine service companies and products, free boating seminars, boat rides, food, and more.  We hope you will join us!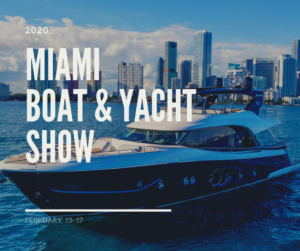 Join us February 13-17, 2020 with Monte Carlo Yachts and Sealine Yachts at the Miami Yacht Show and the Miami International Boat Show in Miami, FL.
MCY and Sealine line up to be announced soon! 
Contact us for more info or to schedule a viewing info@50northyachts.com
DON'T FORGE TO FOLLOW US ON SOCIAL MEDIA FOR THE LATEST AND GREATEST

FACEBOOK
INSTAGRAM
TWITTER
PINTEREST
Didn't find what you were looking for or have questions about listings or upcoming events?
CONTACT US: info@50northyachts.com