Monte Carlo Yachts | MCY 70
DETAILS
Make

Monte Carlo Yachts

Model

MCY 70

Year

2017

Condition

New

Price

N/A

Class

Flybridge

Length

70.01 ft

Hull Material

Fiberglass

Location

San Diego, CA
---
DESCRIPTION
IN STOCK NOW!
This is a demo boat and ready for immediate delivery - Unique opportunity to own a boat with full warranties for significantly less than the new boat price!
Call today for special pricing!
Designed with clear vision and built with state of the art production methods that feature a modular approach and innovative infusion process, the MCY 70, like all Monte Carlo Yachts, with a CE-A rating she is built to take to sea with pure comfort and safely. The advanced keel structure features self-supporting sandwich plating that together with longitudinal reinforcements - there are no floor plates - a bow crash box, and extensive use of kevlar in the areas of greatest impact provide the Monte Carlo Yachts with a very solid but light shell.
Introduced to rave reviews:
"It claims a number of unique advantages over its rivals including a spectacular foredeck area with two semi-circular hi-lo tables, sunpads, folding backrests and discreet pop-up Led lamps."
"Complex and refined design elements immediately convey fluidity an elegance to what is a reinterpretation of the classic nautical bull's eye. Unique and distinctive traits reinforce the brand's appeal which is much more than merely a logo and makes the yacht immediately recognisable"
---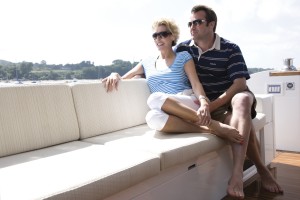 Deciding to buy a boat is a big decision, and the process of searching for and finding the right one should be enjoyable. Let 50 North assist you in looking for the right pre-owned yacht for you.
Our team has long been intimately involved in the international yachting community, both personally and professionally, giving us extensive knowledge of the market. We know how to make this process easy and enjoyable for you, as well as help you avoid common pitfalls.
You are entrusting us to represent you, so we take the time to truly understand your wants and needs. We leave our agenda at the door and focus on finding the right vessel for you.
We encourage our clients to take time early in the process with us. It's important to take the time to evaluate your lifestyle, needs, wants, and budget. You'll sit down with one of our experienced brokers so we can get to know your unique goals and put together a set of criteria for your search. 50 North has connections spanning the globe, and we'll leverage those connections to cast a wide net as we search for boats that match your unique criteria.
As we begin to look at boats together, we'll have the opportunity to discuss the advantages and disadvantages of various types and manufacturers. Once we narrow the selection down, your broker will perform a worldwide market evaluation to ensure we make the right offer on the right vessel.
If you're considering purchasing a pre-owned powerboat, we invite you to schedule a consultation with one of our experienced brokers. We'll assist you with every detail involved in finding and purchasing a pre-owned vessel, and keep the process fun and stress-free.
Click here for a selection of boats for sale. If you see something you like give us a call and we can provide additional information and schedule a walk through. If you don't find what you are looking for, please give us a call and let one of our yacht consultants work with you to find just the right boat.