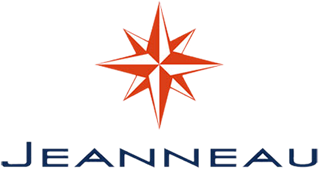 Jeanneau owns the largest production site for cruising boats in Europe, stretching over 40 hectares. 
Over a hundred specialized engineers and technicians work in the Jeanneau design offices at the heart of a technological centre. For Jeanneau, quality is an obsession. To acquire top-of-the-line materials and parts, Jeanneau selects the best suppliers, those who share Jeanneau's commitment to quality and rigorous standards.
The Jeanneau Formula for success: Combine almost 60 years of practical boat building savoir-faire with the latest construction technologies. Invest in and continuously improve technologically advanced factories with ergonomic production lines, computerized processes and efficient logistic supply chains. Translate the efficiencies into lower costs and higher quality for the customer.
Our total quality control system tracks a product through the entire production process and beyond. From laboratory tests of each batch of resin to tank testing to customer satisfaction questionnaires and frequent supplier reviews, we continually seek ways to improve our boats.
GREAT BOATS CREATE GREAT MEMORIES.
---
Jeanneau Inboard